It's so hotttt!
Does is feel like the earth is melting where you are, too? Because Seattle has been hot as hell, lately! It's been in the 90s for a few weeks straight, with zero rain. The grass and plants everywhere are starting to get super duper crunchy, and there have been an awful lot of fire warnings. Actually, apparently the grass in the park across the street from my house caught on fire on the Fourth!
So, if it's so effing hot out, why am I giving you a recipe that requires yo to turn on your oven?
Great question. I don't know—I'm crazy. Also, because this is so totally worth it you don't even know!
I love cherry season! I went a little cherry crazy with recipes last year, and I mayyyy be about to do it again. Sorry not sorry.
This pound cake is outrageously good. It's ultra dense and chocolatey, and punctuated by juicy bits of fresh cherries. I think the key to it's chocolatey decadence is the 6 ounces of teeny tiny chocolate shavings that are mixed right into the batter.
You could finely chop your chocolate with a knife, or grate it. You could also probably get away with chocolate chips, but it wouldn't be quite the same.
To cut the richness, I like to serve this with a dollop of creme fraiche. Its slight tang pairs beautifully with the chocolate and cherry flavors. However, a big ol' scoop of vanilla ice cream, or even a tall glass of cold milk work almost equally well 😉
Another thing I like to do if I'm eating this a few days after I made it, is to pop a slice into the toaster. It gives the outside a slight crispness, while the inside gets soft and gooey—SO GOOD!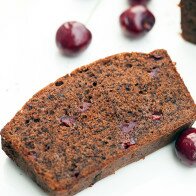 Ingredients:
3/4 cup cake flour
1/2 cup all-purpose flour
1/4 cup unsweetened cocoa powder (I like Valrhona)
1/2 tsp kosher salt
1/4 tsp instant espresso powder
6 ounces bittersweet chocolate, shaved, grated, or super finely chopped
1 cup (2 sticks) unsalted butter
1 cup granulated sugar
1 tsp pure vanilla extract
5 large eggs
1 cup chopped fresh cherries
Directions:
Preheat oven to 350 degrees. Butter and lightly flour a 9" x 5" loaf pan; set aside.
In a medium bowl, combine the flours, cocoa powder, salt, espresso powder, and chocolate; set aside.
In the bowl of an electric mixer fitted with the paddle attachment, cream together the butter and sugar for 10 minutes on medium-high speed. Scrape down the bowl and add in the vanilla and beat for another minute. Add in the eggs, one at a time, beating to combine after each addition. Scrape down the bowl again and add in the dry ingredients. Beat on medium low speed, until fully combined. Carefully fold in the cherry pieces.
Transfer the batter to the prepared pan and bake for 65 minutes, until a toothpick inserted into the center comes out with just a few moist crumbs. Allow to cool for 15 minutes before removing from the pan.
6 Responses to "Chocolate Cherry Pound Cake"
Leave a Comment