*~*~*~Don't forget to enter the Momofuku Milk Bar Cookie Mix Giveaway!!!~*~*~*
I debated sharing this cake with you guys for a while. I wasn't sure that I liked it. Now, this could be because I left out half of the cocoa powder, by accident, because I thought I was using a 1/4 cup measuring cup, but it was actually only a 1/8 cup (oops!).
"I'm not sure about this cake," I kept telling Mikey as I would cut myself another small slice, and then proceed to pick at the cake after my slice was eaten. "Um, it sure seems like you're pretty sure about it…" he responded, "You've eaten half of it…"
Yep. I, Rachael Marie Dart, managed to single-handedly eat half of a chocolate cake that I kept trying to claim I didn't think I liked. Obviously, I was lying to myself. That being said, I'm still giving you guys the recipe with the full amount of cocoa powder, because it was definitely meant to be there, haha.
My favorite part about this cake is the ganache on the top. It's ultra-rich and chocolatey, and flecked with flakey sea salt and desiccated coconut. However, the cake part is also pretty addictive. The texture is almost pudding-like, and I can tell you, from experience, that if you cut it up into cubes and put it into bowl of ice cream, you will be a very happy camper!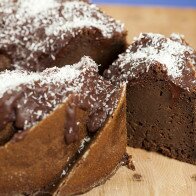 Ingredients:
for the cake:
2 cups coconut porter beer
8 tbsp unsalted butter
3/4 cup (non-dutched) cocoa powder
1 cup white whole wheat flour
1 cup all-purpose flour
1 cup dark muscovado sugar
1 and 1/2 tsp baking soda
3/4 tsp salt
3 large eggs
1 and 1/2 cups plain, whole-milk yogurt
3/4 cup pure maple syrup
for the icing:
3/4 cup confectioners' sugar
1/4 cup (non-dutched) cocoa powder
1/4 cup coconut milk
flaky sea salt and shredded coconut
Directions:
Preheat oven to 350 degrees. Spray your bunt cake pan with non-stick cooking spray, flour the inside, and tap out the excess; set aside.
In a saucepan, simmer the beer down to 1 cup over medium heat. Remove from heat and add in the butter; stir until melted. Stir in the cocoa powder, and whisk until smooth. Set aside and allow the mixture to cool.
In a medium bowl, combine the flours, sugar, baking soda, and salt; set aside.
In the bowl of an electric mixer fitted with the paddle attachment, mix together the eggs, yogurt, and maple syrup. Gradually add in the beer/cocoa mixture, and mix until well-blended. Add in the flour mixture, and mix until just combined.
Pour the batter into your prepared pan, and bake for 45-55 minutes, or until a knife inserted in to the center comes out clean.
Make the icing by stirring together the confectioners' sugar, cocoa, and coconut milk until smooth. Drizzle the icing over the cake. Sprinkle the cake with flaky salt, and then with shredded coconut.
5 Responses to "Salted Coconut-Chocolate Bundt Cake"
Pingback: Guinness Brownies | Spache the Spatula
Leave a Comment