Apparently we're keeping things tropical on the blog lately…
Three posts in a row with tropical fruits—first banana bread, then some mango guac, now these pineapple and coconut frozen delights! I guess I'm channelling the fact that it has honestly felt like the middle of Summer in Seattle, lately. Of course now that I say that, it's finally raining…but I swear, it's been hot and beautiful here since like April!
This is another one of those recipes that doesn't really need a recipe. With only three ingredients and some ice, you could probably figure it out of your own—but maybe you didn't, and it will inspire you!
Much of the time, piña coladas are made with a sweetened coconut cream, but I've replaced that here with coconut milk—not true coconut milk, but a milk alternative coconut milk. Simple Truth has no knowledge of my existence, but I am kind of obsessed with the milk alternative products. I never thought I liked almond milk until I tried theirs, so when I saw that they had a coconut milk variety, naturally I had to try it.
It is sooo good! It's really coconutty, which was I was hoping for (so I probably wouldn't use it as a swap for cow milk), and it goes perfectly in a piña colada 😉 A cup of regular coconut milk is like 550 calories (omg…), but a cup of this is only 80, and it genuinely tastes the same to me (maybe slightly less creamy, but still creamy).
So aside from that random coconut milk I found, the other two ingredients are fresh (or frozen!) pineapple, and—of course—rum! I used white rum in this, but you could also use dark. Seriously, no need to overthink it…it's three ingredients, LOL. Traditionally, piña coladas use pineapple juice, but since were blending it, why not just use the fruit, ya know?
Add however much like you want until your desired consistency is reached. I guess if you're using frozen pineapple, you may not even want to add any if you want it very smooth. Personally, I prefer my piña coladas a bit icy, but to each their own!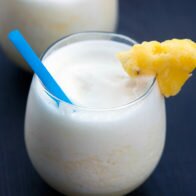 Ingredients:
1 to 1 and 1/2 cups coconut milk beverage (I use this)
1 cup fresh or frozen pineapple chunks
1/2 cup white rum
2 handfuls of ice, or as much as you'd like to reach desire consistency
Directions:
Put all ingredients in a blender, and blend until smooth. Enjoy!
Leave a Comment